Recent 'Aquatic First Aid' News

This is a shout out for any volunteers who are willing to help provide the safety & rescue and first aid cover for the BUCS White Water Canoeing race at the river Washburn near Harrogate this year. If you could help, or you could help promote this opportunity to your club, I'd be really grateful! It would be great if we could increase the size of the safety team this year – we've got a target in mind of 25 people, so if you could help, or you know anyone else that could, please – send them this way!
23-24 November 2013
River Washburn, Blubberhouses, Near Harrogate
You get free tea (or coffee!), food and the chance to be generally heroic. We can also offer free camping and party ticket for those who can help all weekend.
There are lots of roles that we need to fill:
Throwliners
Chase boaters
Live-baiters
Dry organisers and message-runners.
You don't need any qualifications, and we will help you find a role that is right for you, so even if you've got limited experience, this is a great chance to get a little more!
If you're interested and willing, or even if you can suggest some good (free) places to advertise this opportunity, could you let either me or Emili Peake know on safety@wilderness-development.com, and join the group at https://www.facebook.com/Bucsvolunteers and we'll look forward to seeing you there.
Thanks so much in advance.
More about this
The next one-day first aid courses in Manchester are 19 December 2012 and 17 January 2013, both in Manchester (within M60)
All the info's here or you can book online now!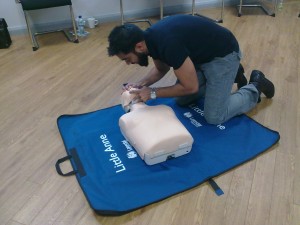 Not quite what you're looking for?
We run lots of training, including longer, shorter and more specific courses, and private first aid courses for groups and organisations. Just ask!
If you'd like any more info or have questions, email will@wilderness-development.com or call 07941 645 520 and I'll be happy to help out.
More about this
Our next Emergency First Aid at Work course will run from 9am – 5pm on Friday 8 June 2012 in Manchester. The cost is just £60 for practical, relevant first aid training that covers common and serious medical emergencies. And what's more, as it's HSE approved, you'll know you're learning useful stuff.
The venue is the Inspire Centre (To be confirmed). For those interested in Aquatic First Aid, the course will also cover the Aquatic First Aid syllabus. These extra topics relating to water-related emergencies will be essential for those requiring an "aquatic first aid" certificate, and interesting for everyone else.
When you're ready to book, just visit https://live.tourcms.com/reserve/r1.php?t=5&a=4869&w=4780&ty=t&k=158c509b4ade
As always, if you have any other questions or would like any more information, just get in touch. You can reach Will on 07941 645 520.
More about this
March
May
More about this
If you're able to be flexible, and several of the published dates for a course would suit you, you can receive a discount on any first aid course booking for Spring 2011! You'll usually be offered the "two people booking together" rate instead of the higher single booking price.
Just select "next available date" when booking, and we'll contact you to let you know the date of your course. You can then decide whether you'd like to attend on the discounted date, and you won't have to pay anything until we've found a date that suits you.
Just so you know, you might have to wait up to a month for your course. This offer is available on any public access first aid course in Spring 2011.
More about this