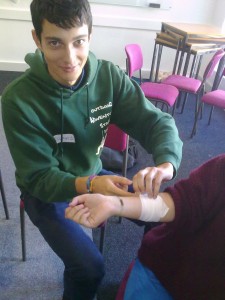 Wilderness Development offer First Aid at Work (FAW) courses on demand. This three day (18hr) course is comprehensive, meets HSE recommendations, and designed for people intending to act as a primary First Aider at Work. This nationally recognised award is the standard course required for workplaces in the UK. Relevant, practical and interesting, Wilderness Development's First Aid at Work course covers:
Treatment of the unconscious casualty
CPR
Dealing with bleeding
Casualty Handling – Preventing further injury and protecting the spine
Splints, breaks, traumas – Coping with injuries
Plenty of realistic scenarios
There is a a practical formal assessment at the end of the course, and we ensure that everyone is fully trained and confident before they attempt the assessment. The successful participants (which we expect will be everybody!) receive the "First Aid at Work (3 days)" certificate.
This course meets HSE recommendations for First Aiders. Awarding is through a range of awarding bodies and varies with your instructor. Typical awarding organisations include Qualifications Network, Nuco and Qualsafe.
Past participants say
"Excellent delivery and a relaxed atmosphere"
"Great value for money, professionally delivered and fun :)"
"Great day and course will be recommending Will and his training to others. Thank you"
"A very thorough treatment of the subject.Very practical."
Pre-requisites
No previous experience is required, and no prior knowledge is assumed.
Course Duration & Cost
This is a three day course.
The cost is £165 per person, with discounts available for group bookings. All public access courses take place in central Manchester.
Dates and availability
To find a date that suits you, or for more information call Will Sheaff on 07941 645 520.