Recent 'Paddle sports' News
In the next few weeks we have these activities coming up:
Kayaking for beginners at Toddbrook Reservoir.
Always fancied a go in a kayak? Why not do it now! The air may be cooling, but the water's as warm as it has ever been and these sessions are suitable for all, including beginners. Next running on Saturday 27 September 2014, from 10am – 1pm, and just £30pp. More info is here, and you can book online here.
Rock climbing and abseiling in the Peak District
Before the nights draw in, take up rock climbing and abseiling. Just £25 per person, with all essential kit and equipment included, this course is next running on Saturday 8 November 2014. Get some information here and book online here.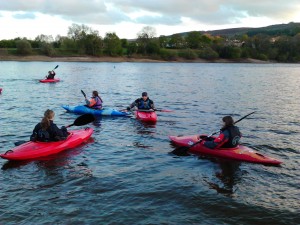 More about this
It's summertime! and kayaking is easy. Fish are jumping* and the water is high*. There's no need to be rich, or even good looking, so hush all the babies and book on-line.
*Fish jumping and water being higher than normal are not terribly likely. But you can certainly book online for kayaking this weekend, and every weekend at http://www.wilderness-development.com/watersports/flatwater-kayaking
Ella's original video is here: http://youtu.be/XivELBdxVRM 
More about this
This week I received a nice email from Paula and Luke who came along on a kayak taster session in the Peak District last weekend:
Hi Will

Just a few lines to say "thank you" for this afternoon – we both had a fab time & looking forward to booking another one of your adventures soon.

Regards
Paula & Luke
More about this
Wilderness Development's next "Try kayaking" session will take place on Saturday 5 April 2014 and is just £30pp. Visit http://www.wilderness-development.com/watersports/flatwater-kayaking for all the info and to book.
More about this
Would  you or anyone from your club would be free and willing to volunteer providing the safety and rescue cover at the BUCS Slalom, to be held at Teeside on 15-16 February 2014.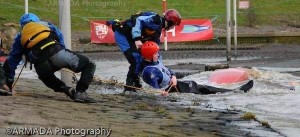 We need people to do a range of jobs, but mainly throwlining and live baiting. You don't need any formal qualifications, just some relevant experience, a BA, helmet and line. If you're new but keen, we can still use you and we'll help you find a job that is suitable for you. You could even fit it in around your runs.
We can offer:
Lots of Safety and Rescue practice with real swimmers in a semi-controlled environment.
Free tea
Food for longer-term volunteers
Thanks and gratitude
Free tea
If you or someone from your club could help or you have any questions at all, please contact safety@wilderness-development.com and it would be great to see some of you there!
More about this