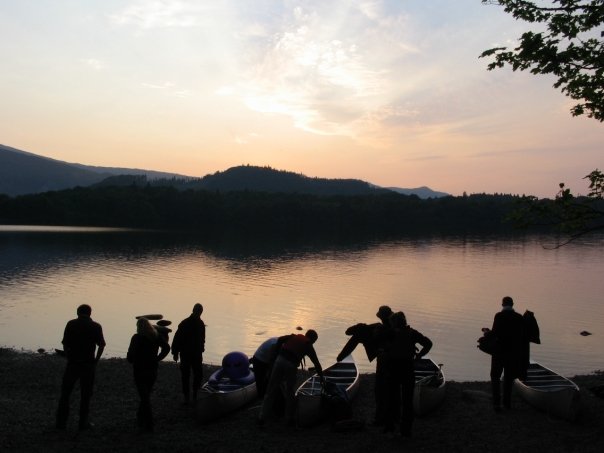 To some people, a river trip in canoes or kayaks is what outdoor pursuits are all about. Combining paddling with improvised sailing, camping, bivi-ing, being self-sufficient, and breaking trail the old fashioned way all add up to make a great experience.
The classic Scottish river trips take between three and five days to complete. The Spey, generally paddled in canoes, takes up to five days and includes sections of moving water up to grade II. Intermediate paddlers or above will find this a fantastic way to improve their paddling, and see the highlands from a new perspective. As an added attraction, distillery tours of the riverside Whisky makers' establishments can add to the variety!
The Caledonian Canal runs from Fort William to Inverness, traversing Scotland from the Atlantic to the North Sea. Over 5 days, and four nights bivi-ing wild, we paddle rivers, lochs and canals. The paddling is mostly on the flat and can be attempted by relative novices, but a few small moving water sections add to the adventure for those that fancy a challenge. To save those arms, improvised sailing on the Lochs takes the effort out of canoeing.
Qualified coaches can also accompany you on a river trip of your choice. If you would like the benefit of coaching and safety advice from a kayak or canoe coach, then contact us to arrange a guiding service. This is a great way to set your mind at ease about your trip, without breaking the bank!
River trips involve many other disciplines as well as just paddling technique. You will need to create your own shelter, cook over an open fire, and live wild for a few days. Self sufficiency and the freedom to set our own itinerary and take life at our own pace is, for many people, a key attraction. If you fancy adventurous daytimes with civilized hotels or guesthouses to relax in the evening, all our trips can accommodate that preference.
Dates and prices are available on request. River trips can be modified to suit paddlers of all abilities, but you will get the most from a trip if you are an intermediate paddler or above, and are reasonably content camping.
Contact us to discuss a multi-day canoe journey