Our most popular activity is Rock Climbing with abseiling. If you are looking for an exciting way to fill your weekend, then this taster session is perfect for beginners who are keen to try both activities. You'll begin the day Rock Climbing, and finish with an abseil.
Accompanied by an experienced, qualified instructor, you will head to a peak district crag where we will provide you with all the equipment you need and full safety instruction. Then it's up to you to climb as high as you like, and take your turn learning to belay (that is, keeping your partner safe whilst they climb). By the end of the session, you will know why we love to climb, have learnt a little, and (hopefully) whet your appetite to climb more.
If you're looking for a birthday treat for a loved one, to introduce your kids to the thrill of real outdoor rock climbing, or just want someone to keep an eye on safety whilst you practice your climbing technique, this session is the perfect choice.
Abseiling can get you out of some tricky situations and be a lot of fun, but it can also feel scary, and you'll need to overcome your fears if you're going to lower yourself off the edge of a cliff and safely down to the bottom. If you enjoy the mountains and want to try something new, or are looking to overcome your fear of heights and test your mental strength, adding abseiling to your climbing session is for you!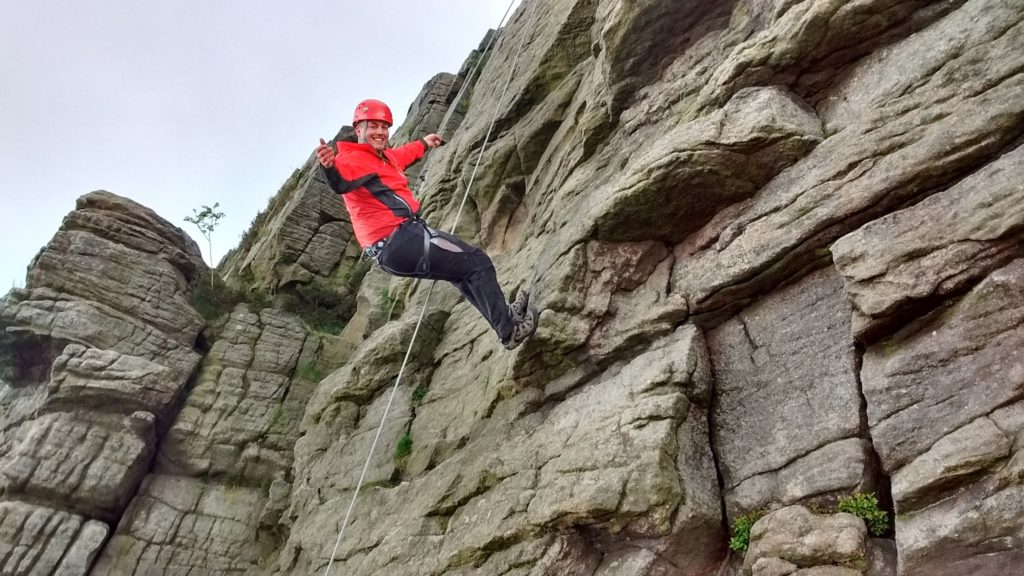 Abseiling is best experienced as part of a rock climbing course, so choose "Climbing with Abseiling" if you fancy a go!
What our clients say
Just a quick note to say, what a great time Kate and I had this afternoon! Best thing we have both enjoyed for some time! We both felt very comfortable and safe under your instruction, and will definitely be returning, and be recommending you! Andy, Manchester
What a fantastic day! Will is a great instructor with a fantastic sense of humour. Made me face my fears and learn new skills. Thankyou! Tina, Manchester
Location
Sessions that run to the south of Manchester take place at a peak district crag, no more than 45 mins drive from the centre of the city. Book several sessions, and we'll visit several different venues! A typical venue is Windgather Rocks.
Sessions that run north of Manchester typically take place at Cadshaw Castle, about 45 mins drive north of the city.
Facilities
Climbing and abseiling venues are typically in remote countryside, so there are no facilities there. Parking is usually free, but you'll need to bring everything with you that you'll need during the day.
Who's this activity for?
The maximum group size is 6 participants per instructor and the minimum age is 10. Under-14s must be accompanied by an adult willing to take parental responsibility for them, although the adult can spectate if they don't want to participate themselves. Under 18s can only be accepted without their parents on group (not private) bookings, and must bring along a completed parental consent form.
All our climbing courses will be tailored to suit the abilities of the group however from time to time we will offer specific courses.
L1 Climbing & Abseiling = Suitable for complete beginners
L2 Climbing & Abseiling = Suitable for anyone who can say 'I have been climbing (indoor or out) on 3 or more occasions and am confident belaying for a climber under supervision, and attaching myself to the rope'
Pre-course information
You can download lots of specific pre course information including all the information on this page, along with detailed maps and directions for the meeting point:
Costs, Availability and Offers
Rock climbing costs from £29 for a half day session on selected discounted dates. A full day course is from £49. A private instructor for the day costs £220 for each group of six people.
You can view availability and book online. For more information call Will on 07941 645 520.