Kids camps are a chance for kids 10-14 to leave their parents behind whilst school's out, and try a selection of different outdoor activities over the course of the week. You'll stay at your own preferred accommodation, or even go back home each night if local. A typical week includes one day of each activity.
Kids camps are offered to Schools and Youth Groups, and are bespoke tailored to each organisation. They are ideal for groups of ten students upwards, with (within reason) no upper limit on group size.
As you would expect, all licencing, insurance and risk assessments are in place, and we can work with your EVA or organisation to show all due diligence is in place.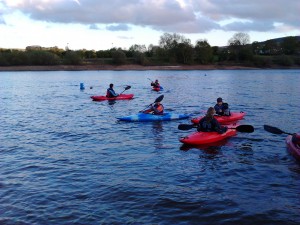 You can try activities including
Rock climbing and Abseiling
Canoe journey
Kayaking
Mountain adventure scramble
Weasling and Survival skills
What's Included
All specialist kit and equipment.
One fully qualified instructor for every 6 kids.
Reputable, high quality instructors.
Real, exciting adventure!
Who are Wilderness Development adventure camps aimed at
School or youth groups, students aged 10-14
Adventurous and sporty groups
Groups with their own accommodation (either booked independently or your permanent base). (We can help source suitable accommodation if required)
Location information
Some examples of our frequently used venues are here
Indicative activity costing
£40 per day or £190 per week per student. This would not include accommodation, transport or meals. We can assist sourcing these from a good local hostel or campsite if required. Many groups arrive in their own minibus or transport and this would stay with the group during the week.
How to enquire
Give Will Sheaff a ring on 07941 645 520