These modular classes are a great way to learn as much or as little first aid as you like, over a series of evening sessions.
Classes run on Monday-Thursday evenings and are numbered. So everyone starts at class number one, and you can keep coming for as long as you like.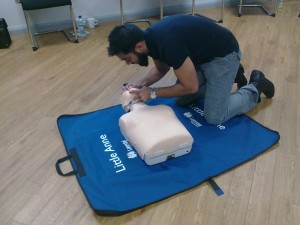 To be eligible for any certificates mentioned, you need to complete each class within six weeks, although not necessarily in order.
Course Content
| | | |
| --- | --- | --- |
| Class 1 | Treatment of a heart attack, including CPR. By the end of the class, you'll be confident helping someone who has stopped breathing. | You'll get lots of practice dealing with an emergency like this:http://youtu.be/Osb2aQC169k |
| Class 2 | Prioritising injuries, dealing with unconsciousness | Candidates who succesfully complete the first two classes are eligible for a Basic Life Support certificate |
| Class 3 | Treating bleeding and other serious medical emergencies; Helping someone who is struggling to breathe because of severe allergies (anaphalaxis) and severe asthma. | Candidates who succesfully complete the first three classes are eligible for a HSE approved Emergency First Aid at work certificate |
| Class 4 | Breaks, fractures, dislocations; Joint and limb injuries and how to treat as best we can.Head injuries. | Practice techniques like splinting http://youtu.be/0JlYnu0QQRE |
| Class 5 | Dealing with water-based emergencies, like drowning, hypothermia, and also covering CPR for children and babies | Candidates who complete classes 1 to 5 classes are eligible for an Aquatic First Aid certificate |
| Class 6 | Injuries and illnesses common in children, like fitting. We also discuss ways of improving "adult" first aid techniques to make them more suitable for children, and "child protection" and safeguarding issues. | Completing classes 1 to 6 makes you eligible for the Paediatric first aid (12 hour) certificate, meeting OFSTED requirements. |
| Class 7 | Spinal injuries, chest injuries and common medical emergencies like diabetes and epilepsy. | Practice dealing with common medical emergencies like epilepsy: http://youtu.be/Q4C-R52Ffy4 |
| Class 8 | Outdoor first aid: Specific considerations when dealing with wet and cold casualties outdoors. | Candidates who complete all eight classes will be eligible for the outdoor first aid (16 hour) certificate. |
Course Location
All public courses take place at either Levenshulme Inspire Centre  (map) or Mellor Lodge on the edge of the Peak District (map)
Class Duration & Cost
Each class lasts two hours and costs £20.
You can also book a set of 5 classes together for £115 or all 8 classes for £150

Closed group bookings cost £150 per class for a group of up to twelve people, plus mileage from Greater Manchester. Available upon request at your workplace, club or suitable location.
Dates and availability
All dates and availability are published in our online booking system. Take a look here.
You can book online here. To book by phone, call Will Sheaff now on 07941 645 520
Download full pre course information
Save a life first aid classes pre course info

More info?
Just call 07941 645 520 or email will@wilderness-development.com