If you have a little experience paddling canoes or kayaks under your belt, then our Improvers Course will teach you the additional skills and techniques you need to effectively control your boat on sheltered water in style and safety.
We'll cover the syllabus of the British Canoeing Explore Award, and you'll be eligible to receive the nationally recognised "Explore Award" if you reach the set standard by the end of the course. (There is no obligation to be assessed or receive the award if you don't want / need it!).
You can take the award in Kayak, or Canoe (or both!)
Our syllabus aims to help you feel confident controlling your boat, and give you a breadth of knowledge to arrange your own canoeing outings. We'll cover a range of safety and preparation topics, as well as boat manoevring and control, some rescue skills and background knowledge to enable you to head off to independently explore subsequently in kayak or canoe in a sheltered water environment.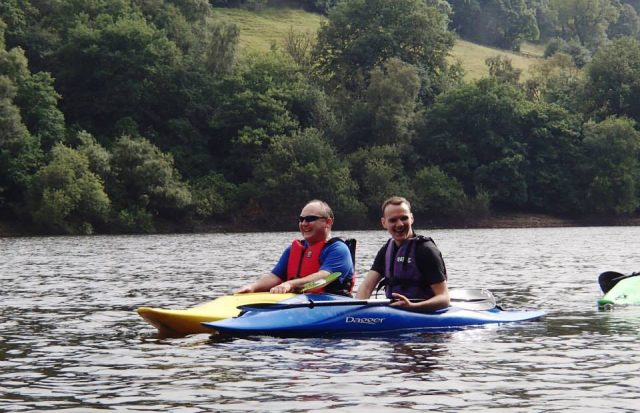 What our customers say
'Excellent choice of venue; local to where we lived. River trip was very enjoyable. Will's enthusiasm was great from first contact and all the info was very helpful. Excellent customer service, great rapport and very enthusiastic'. – Belinda, Chester.
Pre Requisites
There are no formal prerequisites, however this is not a beginners course so we recommend that you have completed the Paddle Discover or BCU 1* award, or have equivalent experience. (We offer beginners kayaking and canoeing courses too!)
The Improvers Paddlesport Course is suitable for age 14 upwards. You'll need to be water confident (able to swim 25 meters wearing a buoyancy aid).
Equipment
All the boats, paddles, buoyancy aids (life jackets) and essential kit are provided, free of charge, but you will need to provide your own personal  clothing (warm tracksuit type clothing is ideal) – please see the course information document below:
Course syllabus
Comprehensive pre-course information can be viewed here:
Wilderness Development Improvers Paddlesport Course Information
The Explore Award syllabus can be viewed here:
British Canoeing Explore Award
Course Duration & Cost
Typically training and assessment take one day each, with a few weeks time between training and assessment to allow for practice and consolidation. If you feel you would benefit from more training, we also offer two-day-long training courses.
If you are already reasonably close to the Explore Award standard, you might consider taking a two-day-long combined training and assessment course, without a consolidation period in between.
For open courses thr cost is £77 per person per day. A private course for up to 4 people costs £220 per day. Discounts are available for group bookings.
Dates and availability
The easiest way to find a date that suits you is to book online now. Or for  more information call Will on 07941 645 520.