This October half term,  spend some time with other rock monkeys, leaping to the top of Manchester's best indoor climbing venues- all without your parents cramping your style!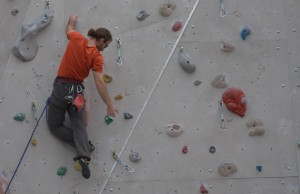 When?
Drop off from 9am, pick up at 4.30pm on one or more of these dates:
Monday 24 October
Wednesday 26 October
Friday 28 October
Location
Meet at Gorton Education Village, just off the A57, East Manchester. Postcode M18 7DT . View a map of the meeting point here.
Over the course of the three days, we'll visit several different indoor climbing centres depending on the preferences of the gang that attend, and the suitability of centres to participants.
Who's this activity for?
10 to 14 year olds. You'll work in groups with other people of your own age and ability, all under the watchful eye of a friendly instructor. Complete beginners are welcome, and so are elevation-experts! Parents need not attend.
What's included
All instruction and supervision
Equipment like ropes and harnesses
Transport to the climbing walls
Wall entrance fees
7.5 hours of fun!
What's the cost?
£35 per place per day, or £90 for all three days.
Any extras?
You'll need to bring or buy lunch
If you need to drop off before 9am or collect after 4.30pm a fee will apply.
You can climb in trainers and normal sportswear, but if you want to hire sticky-soled climbing shoes to maximise your climbing potential, they cost £5 a day. You can pay for these on the day if you like.
More Questions?
Call Will on 07941 645 520 or email will@wilderness-development.com
How do I book?
There are two stages:
Payment- Please select your date and pay below: