Recent 'Course Dates' News
In the next few weeks we have these activities coming up:
Kayaking for beginners at Toddbrook Reservoir.
Always fancied a go in a kayak? Why not do it now! The air may be cooling, but the water's as warm as it has ever been and these sessions are suitable for all, including beginners. Next running on Saturday 27 September 2014, from 10am – 1pm, and just £30pp. More info is here, and you can book online here.
Rock climbing and abseiling in the Peak District
Before the nights draw in, take up rock climbing and abseiling. Just £25 per person, with all essential kit and equipment included, this course is next running on Saturday 8 November 2014. Get some information here and book online here.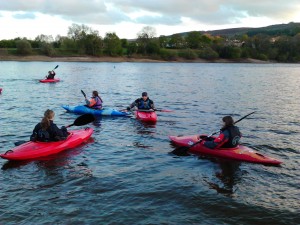 More about this
It's summertime! and kayaking is easy. Fish are jumping* and the water is high*. There's no need to be rich, or even good looking, so hush all the babies and book on-line.
*Fish jumping and water being higher than normal are not terribly likely. But you can certainly book online for kayaking this weekend, and every weekend at http://www.wilderness-development.com/watersports/flatwater-kayaking
Ella's original video is here: http://youtu.be/XivELBdxVRM 
More about this
Wilderness Development's next midweek Outdoor First Aid course is taking place on Monday 21 – Tuesday 22 July 2014. Recently, Liz had this to say about one of our courses:
"It was one of the best First Aid courses I have been on, having the opportunity to run though multiple outdoor scenarios was very useful, and the way it was adapted it to everyones particular situation and sport was excellent. I have recommended you."
More about this
Wilderness Development's next one day long Emergency First Aid at Work (EFAW) course will run on Monday 21 July 2014 in central Manchester.
This practical, relevant first aid course is just £65, and covers the basic skills required by the HSE for workplaces. It's accredited by the nationally recognised First Aid Industry Body too, so you can be sure you're learning good stuff. Here is what some recent participants had to say about the course:
"Very informative and incredibly useful for both work AND home. Truly a must for ALL employees!"

Paul, Levenshulme.
For more information on this one day accredited first aid course, click here: Emergency First Aid at Work course.
Alternatively, you can book your emergency first aid at work course online here.
Did you know that we also offer a second day for this course, delivered in the outdoors, and leading to the nationally recognised Outdoor First Aid certificate?
More about this
Wilderness Development's next beginners' navigation training course will be taking place on Sunday 20 July 2014 at Middlewood on the edge of the Peak District.
This one day course is suitable for beginners, and would be particularly ideal for those taking on the Peak District Challenge 2014. You'll learn using map and compass the basic skills you'll need to find your way around the countryside, and leave with the confidence to walk further afield and over more remote terrain than ever before.
Visit the navigation training course page for more information, or you can book navigation training online here.
More about this