Recent 'Mountain sports' News
More about this
Wilderness Development is proud to be providing Mountain Leaders and technical support to the annual Peak District Challenge, this year taking place on 19-20 August 2016.
More about this
Wilderness Development are proud to provide technical and mountain leadership services to the annual Peak District Challenge, this year on 18-19 September 2015.
More about this
This Saturday, our friends at Bibliotheca have organised an abseil from the Peak District's iconic abseiling venue at Millersdale in aid of Dyslexia Action. A £10 (or more!) donation will give you the opportunity to test yourself descending 65 feet from a disused railway viaduct. The £10 minimum donation is the only thing you'll pay, so this represents a really good value opportunity to test your mental strength. (Normal price £25 pp).
You can book online here or for more information call Will Sheaff on 07941 645 520.
More about this
In the next few weeks we have these activities coming up:
Kayaking for beginners at Toddbrook Reservoir.
Always fancied a go in a kayak? Why not do it now! The air may be cooling, but the water's as warm as it has ever been and these sessions are suitable for all, including beginners. Next running on Saturday 27 September 2014, from 10am – 1pm, and just £30pp. More info is here, and you can book online here.
Rock climbing and abseiling in the Peak District
Before the nights draw in, take up rock climbing and abseiling. Just £25 per person, with all essential kit and equipment included, this course is next running on Saturday 8 November 2014. Get some information here and book online here.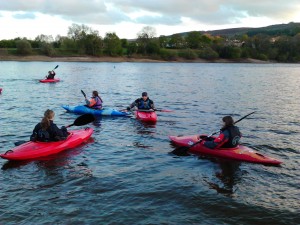 More about this