Volunteers needed for safety and rescue at the BUCS Slalom 2014
Posted on January 24th, 2014 by Will
Would  you or anyone from your club would be free and willing to volunteer providing the safety and rescue cover at the BUCS Slalom, to be held at Teeside on 15-16 February 2014.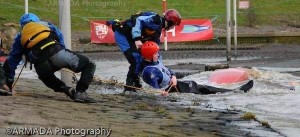 We need people to do a range of jobs, but mainly throwlining and live baiting. You don't need any formal qualifications, just some relevant experience, a BA, helmet and line. If you're new but keen, we can still use you and we'll help you find a job that is suitable for you. You could even fit it in around your runs.
We can offer:
Lots of Safety and Rescue practice with real swimmers in a semi-controlled environment.
Free tea
Food for longer-term volunteers
Thanks and gratitude
Free tea
If you or someone from your club could help or you have any questions at all, please contact safety@wilderness-development.com and it would be great to see some of you there!